We provide various types of insurance services, high speed and reliability for the transport of Biological Material, Laboratory Kits, Documents, Small Orders and Express Cargo, safely, for all Brazil and also to the whole world.
We also provide agile and precise customs clearance services.
STD
National Courier Service and International door to door Documents and Small Orders for all cities of Brazil and the World, with its confirmation of delivery.
SPEED
Remittances Expressed dedicated service to National and International Biological Material, Drugs, Laboratory Kits and Documents dealings with differentiated enabling significant reductions in transit times between points. Service available with online tracking on our home page.
FLYING
Service for which we developed a fine transport that exactly meets the needs of extremely urgent shipments to any city in Brazil and the world. Service available with online tracking on our home page.
Express Service
Service developed for Laboratory Kits transport Clinical Trials and Packaging for Biological Material aimed at significant cost reductions for our customers, meeting the needs of the times.
Cities Attended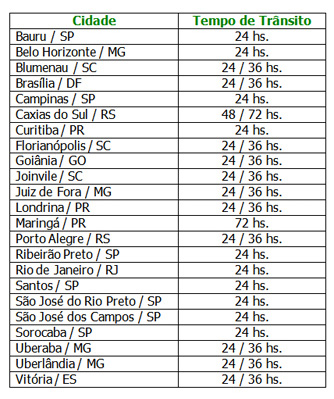 STD
Shared service with large companies in the road transport cargo business with which we have great partnerships, used by customers for deliveries where the delivery time can be a bit more elastic. Ideal for transportation equipment and heavier loads. Open to any city of the country.
REX | Express Shipment
Customized service used to effect Customs Clearance for Import and Export of Biological Materials, Laboratory Kits, Documents and Small Orders in the mode Express Shipment in Teco (Courier Terminal). We assist you in making all relevant documentation with their generation and discharge of their taxes and fees. * Service available only in Guarulhos Airport.
RECA | Formal Cargo
Customized service used to effect the release of Formal Cargo through Customs Broker licensed in TECA (Cargo Terminal). * Service available only in Guarulhos Airport.

Service designed to meet the needs of Pharmaceutical Industries in effecting reimbursements products to its consumers. A complete service that goes from the pick up of products on the customer, through the scheduling of the exchange with the consumer, fast and efficient transport to destination, the product exchange with the consumer through specially trained personnel for this type of service, acting much education, discretion and secrecy, ending with rapid return of the product exchanged for analysis of the Pharmaceutical Industry. All stages with online tracking on our home page.